Main content
Equity and Inclusion
---
Mission statement:
"Our mission is to foster a supportive environment for all constituencies within our department and beyond. We are committed to all members of our community to listen, to engage, and to promote awareness of best practices to achieve a respectful and collegial environment. Through collaboration with DEI committees and other organizations across campus and with Emory University, we strive for a diverse, equitable and inclusive community at large."
Emory Resources:
Physics department Diversity, Equity and Inclusion Committee: Laura Finzi (Chair; lfinzi@emory.edu); Alissa Bans (alissa.sue.bans@emory.edu); Waad Paliwal; Grace Regnier (grace.regnier@emory.edu); Jennifer Rieser (jennifer.rieser@emory.edu); Satya Spandana-Boddu (satya.spandana.boddu@emory.edu); Daniel Weissman (daniel.weissman@emory.edu); Toler Webb (toler.webb@emory.edu); 
·         James Weldon Johnson Institute for the Study of Race and Difference 
·         The Emory Black Student Union (EBSU) 
·         Center for Women at Emory University 
·         Women in Science at Emory (WiSE) 
·         Office for Racial and Cultural Engagement at Emory University 
·         Title IX 
·         Guidance on student mistreatment 
·         Counseling and Psychological Services (CAPS) 
·         Office of Diversity, Equity, and Inclusion  
·         Department of Accessibility Services 
News and Activities:
Congratulations to our Laney Graduate School EDGE Ambassadors Satya Boddu, Rajpreet Kaur, and Ankita Ankita! They were recognized at the 2022 LGS Annual Diversity Reception. Satya was also nominated for the Kharen Fulton Graduate Diversity Award! Way to go!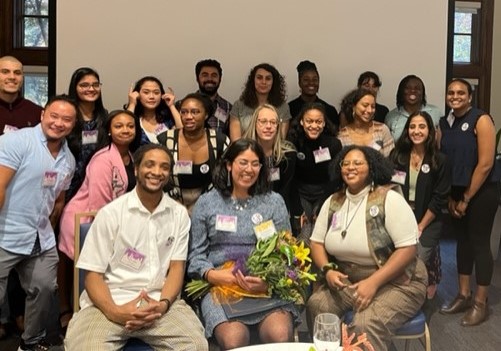 Other news and activities:
The Restructured Graduate Curriculum will be described at the next Town Hall (Oct. 21, 10am-12pm)
Graduate students! Please discuss Rotation Guidelines with your rotation advisor 
The Science Education Research Journal Club website (http://physics.emory.edu/faculty/weeks/journal/) lists many papers related to DEI and STEM education that are frequently discussed.
2022-23 Honors students: 10.  2021-2022: 3. The department encourages all seniors to undertake an honors thesis, if they are interested.
The Society of Physics students (SPS) held an outreach event at the Spread The Word (STW) Christian Ministries congregation, Youth Department Enrichment Program (STW STEM Day with Emory Physics Students) on Sunday, September 18, 2022.
DEI town halls count as departmental ethics training for graduate students.  DEI is one of the most important part of ethics training for STEM students..
Upcoming: